Does the coming of fall have you feeling blue? Hopefully the relief of the impending cooler weather isn't that depressing, but if you are feeling blue, then why not use it to decorate?
Cobalt blue has been popping up across the backyard and garden scene this summer and we are absolutely in love. This cobalt blue color adds just the right amount of color pop against any home or porch backdrop. To help you understand our love, we found these great examples of cobalt blue in use + included our favorite blue items from Willard & May. This eye-catching hue may just turn into the new black…
COBALT BLUE IN USE: 
(1. HGTV, 2. Houzz 3. Calypso Gardening 4. Apartment Therapy 5. HGTV 6. Tesselaar 7. Willard & May)
TIPS FOR USING BOLD HUES:
Vary the intensity, texture, and size – Pick a color you like, but add colors that are a bit lighter or darker to create that unique ombre look we've been seeing from hair, to clothing, to decor. Try not only adding variation in the color, but also vary the texture and sheen of the pottery or objects. Make use various sizes to create interest. All of these will create a great unified look.
Add contrast with what you plant inside – Cobalt blue itself is a loud color, but don't be afraid to use bold contrasting blooms inside the planter. In this case, cobalt blue is the new black and everything goes with black! Also, vary the textures and heights within the planter.
Bring it inside – Don't be afraid to bring plants and their colorful planters indoors! Sometimes you need a pop of color to tie in a room, and that can easily be done with the color of the bloom or decorative planter. Don't have a green thumb? Don't worry! Check out your local crafting store for some fake flowers…some of them look extremely real!
Cobalt, Cobalt Everywhere – Don't limit the use of this fantastic color to your pottery alone! Utilize it also in accessories, walls, shutters, furniture, fountains and much more!
OUR FAVE COBALT BLUE ITEMS: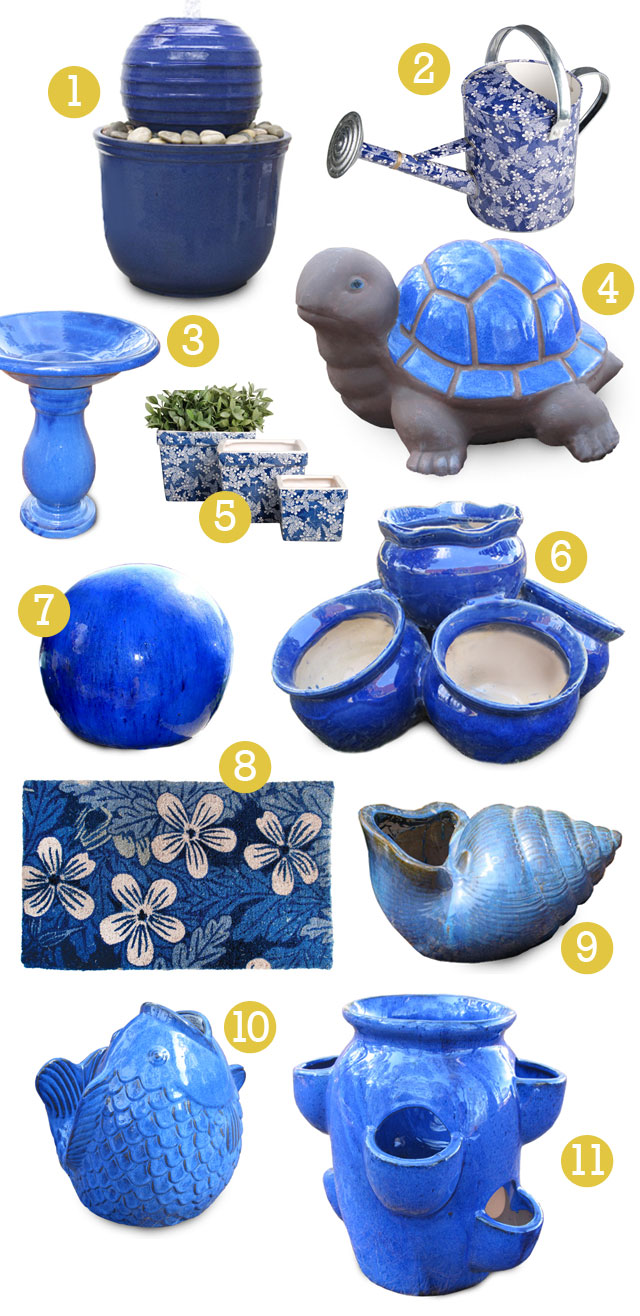 (1. Garden Fountain 2. Blue Blossom Watering Can 3. Cobalt Blue Ceramic Bird Bath 4. Cobalt Blue Decorative Turtle 5. Blue Blossom Planters 6. Cobalt Blue Cluster Pot 7. Blue Gazing Balls 8. Blue Blossom Door Mat 9. Shell Planter 10. Fish Planter 11. Cobalt Glazed Strawberry Planter)
So if you feel blue… decorate with blue!