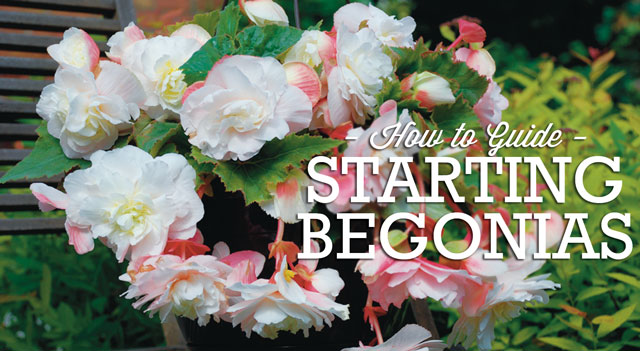 Begonias are wonderful plants for shaded areas and can give you a lush, full plant with huge blooms if grown correctly. Since they require a lot of warmth and some patience to get to this full state, many gardeners prefer to begin their begonia tubers indoors during the late winter months. Starting your begonias indoors is a fairly simple process and means fuller plants later in the summer season!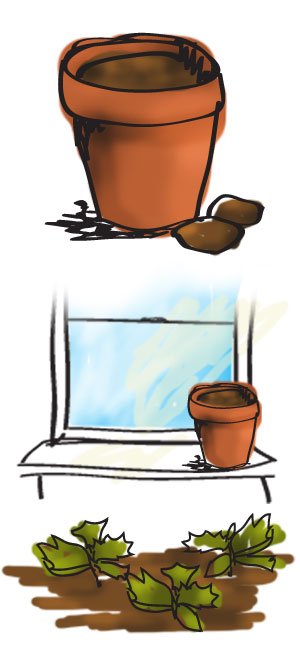 Follow these simple steps:
Plant tubers in later winter, hollow side up, just below the soil level in a moist peat compost mixture. Use shallow seed trays or small pots with good drainage and place on a window sill or other location that receives indirect sunlight. Be sure the temperatures for this location does not fall below 60 degrees F. Cover tray or pot with paper or plastic wrap to promote sprouting. Watering sparingly until growth begins.
Once the tubers begin to sprout (approx. 4 to 6 weeks), development becomes more rapid. Remove the plastic wrap or covering and give them maximum light but still shaded from strong direct midday sun. Water regularly, never allowing the soil to dry out completely but being sure not to let them sit wet as this can cause rotting. An application of good liquid plant food will improve and quicken growth.
When the threat of frost has passed, move the plants outdoors. The tubers can be left to remain and grow in the pots or transferred to an outdoor garden bed. Begonias thrive in semi-shade and do not do well in hot mid-day sun. They dislike dry conditions so be sure to provide them with ample water, especially in periods of hot weather. Remove all the wilted leaves and flowers during the growing season to encourage flowering throughout the summer months.
Brilliantly-colored begonia blooms in a unique hanging basket or watering can will add a splash of color on the deck, under the overhang, or even on a shepherd's hook in the backyard! Check out our Begonia Gardening Kits which include a planter (hanging basket or watering can), begonia tubers, and a soil disk!
Happy gardening and enjoy your begonias this summer!