Every year around this time is the time to start putting away all of those Christmas decorations you put up. So since it's January and the month of new beginnings, we thought it would be fitting to share some tips to rejuvenate your house this winter:
CLEAN & ORGANIZE! After you take down your Christmas tree and pack away all of your Christmas decor, clean and let those windows sparkle! With a clean house it makes rejuvenating your home a breeze. Cleaning gives you a fresh slate to work with. While cleaning, get rid of anything you haven't used in a year. If you haven't used it in the last year, it's very likely that you still won't use it this year –  make some more space for things you actually use!
Consider a new layout! Changing a room's layout can make a huge difference + it's free and simple. The new layout can also create a better traffic flow than before. Is everything that's organized in the most beneficial location? If not, it's time to make the move!
Instead of putting your usual decor back in its original spot, find a new place for it. Change it up — that's what January is all about!
Make some updates! Now is the time to update an old piece of furniture whether it's painting or reupholstering a chair. These little things can make a huge difference!
Mix it up. Take things from your bedroom and swap them with decor in the living room! Make things interesting and see your decor in a whole new light!
Tray Chic: Use trays to corral smaller items together. They are perfect in the living room, for instance,  to group candles with a floral accent. Or perhaps you could place one in the bedroom to display your perfume. You can find trays at Willard & May that are perfect for any of these examples and more!
With winter reaching most states, it's gloomy, snowy, and nothing really grows. Which makes Willard & May's Faux Forever Terrariums great for rejuvenating your house and bringing in some greenery. Willard & May has a variety of different terrariums to choose from and you can even customize them yourself!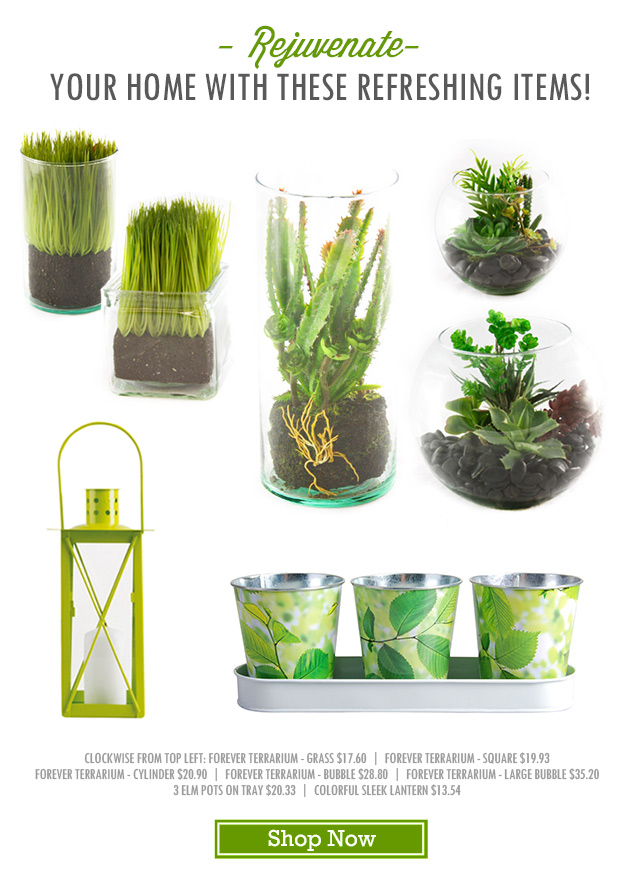 You can find these refreshing items and many others at willardandmay.com [Clockwise from top to left: Forever Terrarium-Grass | Forever Terrarium-Square | Forever Terrarium-Cylinder | Forever Terrarium-Bubble | Forever Terrarium-Large Bubble | 3 Elm Pots on Tray | Colorful Sleek Lanterns ]
With these tips, your house is sure to have a fresh and rejuvenated feel. Help get yourself out of that winter funk and ready for the spring! We'd love to hear what you think or what you've done to rejuvenate your living space — let us know your ideas to help with winter home rejuvenation in the comments below!