Everyone dreams of having that amazingly decorated,-cozy outdoor room often seen in  magazines or design blogs. But you easily brush if off because how in the world would you make it look like that yourself? Well, we recently came across a photo of a lovely outdoor dining set up, immediately thought "oh so pretty" and next, how awesome are those stools?! Then, we thought where do you find those! Finally we thought, let's look at pinterest for a DIY. Here's the image we're referring to:
(Source: Pinterest)
So, stumped on what to do this weekend? (no pun intended, haha) Not anymore! We've got the perfect DIY project for you to start and it would make a great addition to your outdoor living room,a porch or even your favorite rustic indoor space! This DIY comes from the blog, The Art of Doing Stuff. The author believes in not spending lots of money on the things that fill your home, as she'd rather find it at a garage sale or on the side of the road as opposed to a fancy store. So when she also saw a tree stump side table in a magazine, she thought, "I can make this". And so can you.
This DIY stump project is something you'll want to start this weekend, and finish up in about a month – as you have to allow the stump to dry out. But don't worry; it'll be ready just in time for the arrival of spring! The bonus is this project doesn't cost much, especially if you can easily track down an old tree stump outdoors. Next, you'll need some polyurethane, sand paper and a paint brush. If you want to make it into a side table, you could even add legs like she did. She shares the whole DIY instructions on her blog, so head on over and check out how to make this amazing stool or side table.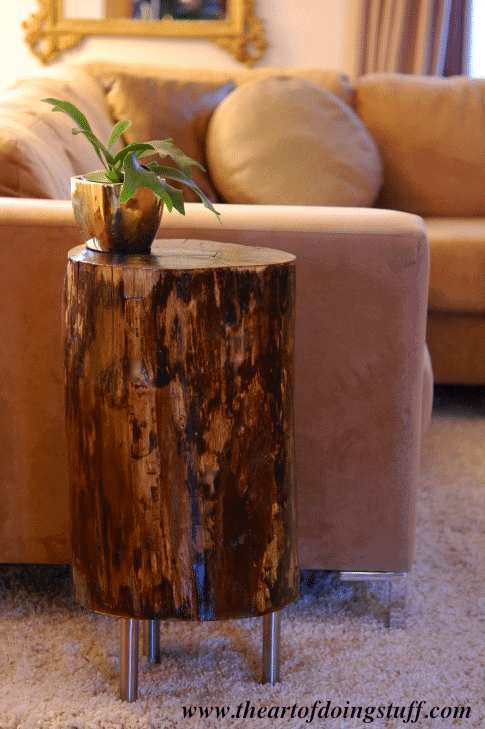 (Source: The Art of Doing Stuff)
We also found another great example of how to use a stump sidetable on the blog Design Megillah. Check it out to see how she made her stump!

Happy Weekend!