Create the neighborhood evening hot-spot in your own backyard by adding a Chimenea! You may ask, "A Chima-what?" I'm sure you've seen these patio ornaments during your last trip to Mexico or in western movies…the Chimenea actually originates from Mexican Tribesmen who developed a way to simultaneously keep their families warm and cook, all while keeping the rain off of their fires. Recently, these Chimeneas have gained popularity in the world of outdoor decor since they also make a wonderfully affordable fireplace/firepit. Also, unlike the Mexican Chimeneas, Chimeneas today are crafted out of durable deluxe clay and are made to last and use outdoors year-round – even in the northern areas.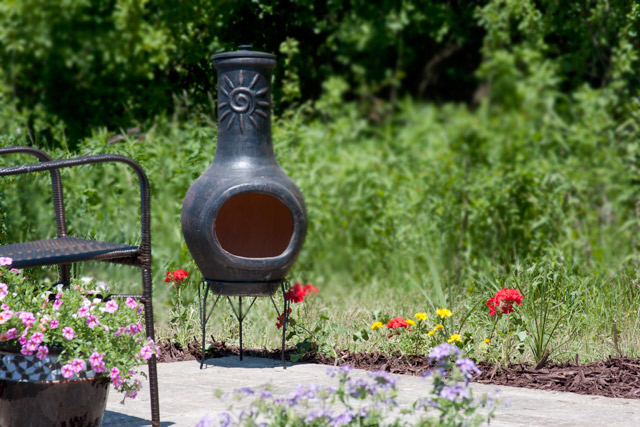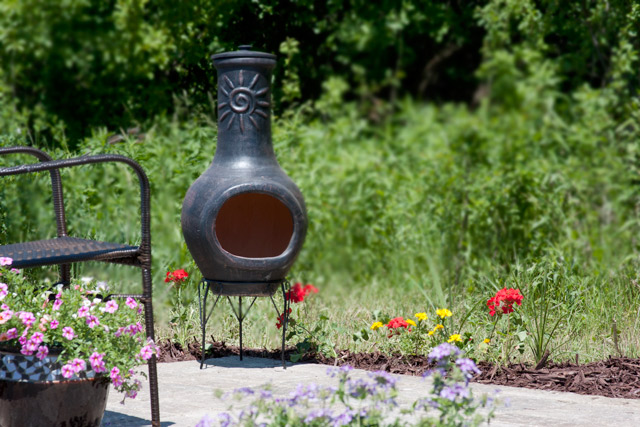 Chimeneas are an easy way to add warmth, light, and comfort to your backyard space. The long-lasting Chimeneas from Willard & May can be enjoyed year-round when placed amongst your garden, on your patio or deck, in your pool area and even while camping. Use your wood burning outdoor fireplace to add an inviting ambiance, warm-crackling flames, and a delightful wood burning aroma to your backyard space. You can also burn pinion woods (a hardwood pine found in the mountains of the southwestern United States)  as a natural mosquito repellent!
CHIMENEA CARE TIPS
– Use the included metal stand as this helps to prevent the clay from retaining moisture. Your Chimenea will last longer if kept above the ground and allowed to breathe.
– Use a 2-3″ barrier of sand or pea gravel in the base of the wood burning area. Do not build a fire directly on the clay.
– Cure the Chimenea fire pit by building 2-3 small fires prior to regular, prolonged use. Allow the clay to cool completely between firings for at least 4-6 hours.
– Use newspaper or kindling to begin all fires. Never use starter fluid, charcoal, or artificial logs in your Chimenea.
– Keep your Chimenea free from water by protecting it during rain or freezing weather. If water does find its way inside, replace the sand and allow it to dry completely before starting another fire. Apply a non-flammable water-based sealer annually.
– Chimenea will get very hot during and after the burning process. Children should be supervised in the vicinity. Also, keep Chimenea away from roofs, overhangs, and branches and take care when using on a wood deck.
To properly see how you should care and handle your outdoor Chimenea, view the complete Chimenea Care Instructions here.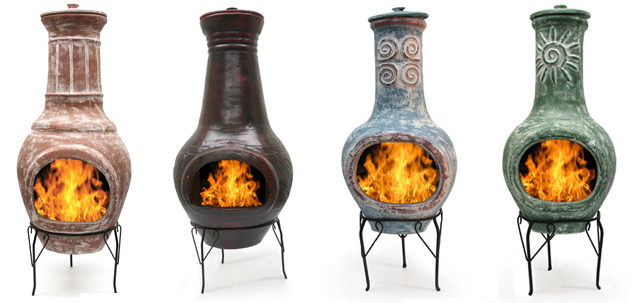 Included with our Willard & May ceramic Chimeneas are the powder coated stand, the cap, metal grate, and care instructions to get the best enjoyment from your Chimenea. There is no assembly required, just plain ol' fun and easy! Check out all the different styles available for sale now!