Everyone is familiar with the tranquil environment that a waterfall and stream creates – it's so peaceful, yet most people don't have the luxury of enjoying one in their own backyard. However, that can change within just two weekends! Even though it may seem like a daunting task, perhaps you've decided to be adventurous and create a water feature in your backyard. Great! We've found some great step-by-step instructions that will help you achieve a great looking waterfall and stream with only a little bit of elbow grease.
Here are the supplies you'll need: Level, Wheelbarrow, Rubber mallet, Spade, Utility knife, Large waterfall pump, Hose kit and connections, PVC primer and cement, Ball valve and clamps, Sewage basin (18" x 30") and lid, Two hole saw bits (2" and 1"), EPDM pond liner, Underlayment fabric, Waterfall foam sealant, Gravel, Field boulders, Decorative boulders, Hand tamper, Scissors, and a Ball cart (for moving boulders).
Here are the simplified steps, but refer to The Family Handyman for the complete step-by-step DIY waterfall instructions. Step 1: Understand how waterfalls work in a backyard setting. Step 2: Plan out your waterfall. Step 3: Purchase the stone materials. Step 4: Map the waterfall and stream and dig. Step 5: Complete the lower basin. Step 6: Dig out or build a long staircase. Step 7: Arrange liner and layout the stones. Step 8: Add additional stones and fill gaps. Step 9: Add gravel and clean the system. Step 10: Enjoy!
Here are a few photos of the process: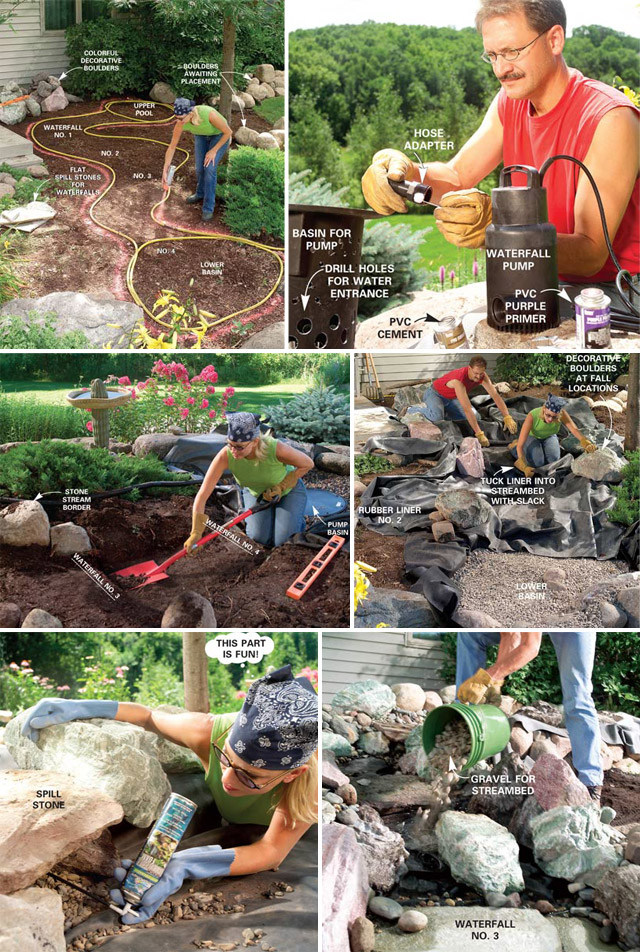 (Photo Source: The Family Handyman)
As additional inspiration, we've included some photos below from one of our very own team members. She has created many water features in others' yards as well as her own! Here are a few of her tips to create your own backyard oasis:
If you build it into the ground and lay layers of thick weed barrier under the liner, it will last a lifetime. Shade is helpful in keeping algae at a minimum. You may also want to purchase an algaecide to help. Maintenance will be less than a flower bed! Dig the width of the stream wider than your finished desired width as rocks will fill it in a lot. Also, purchase a waterfall pump that is designed for the height & width of your design (its more than just gph).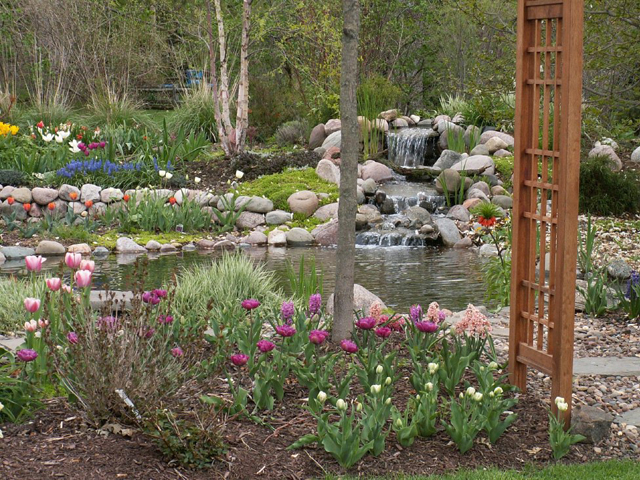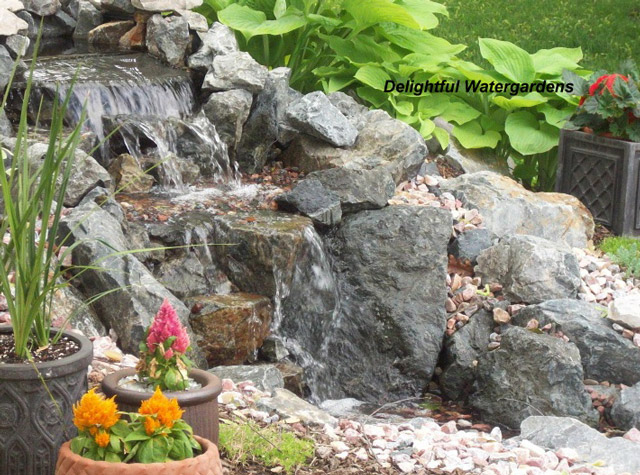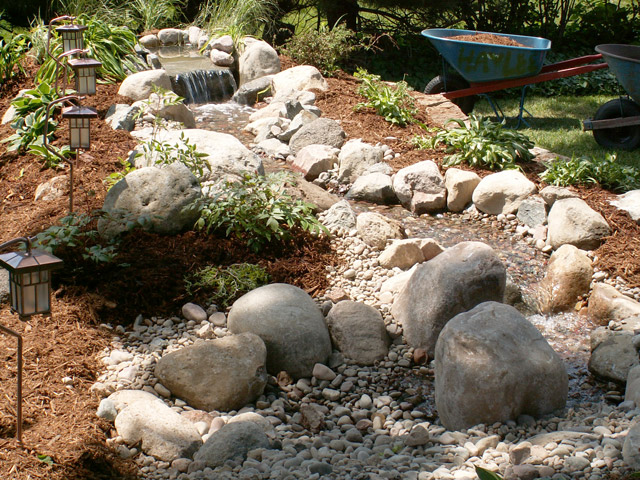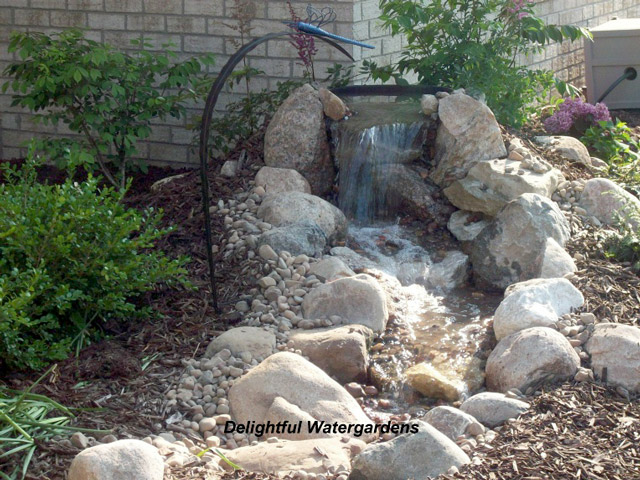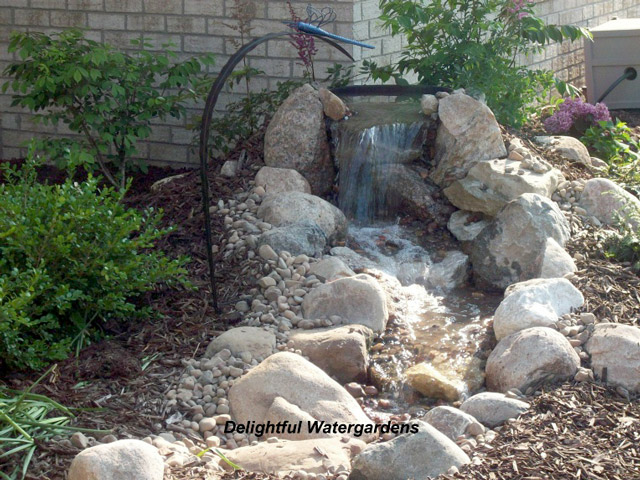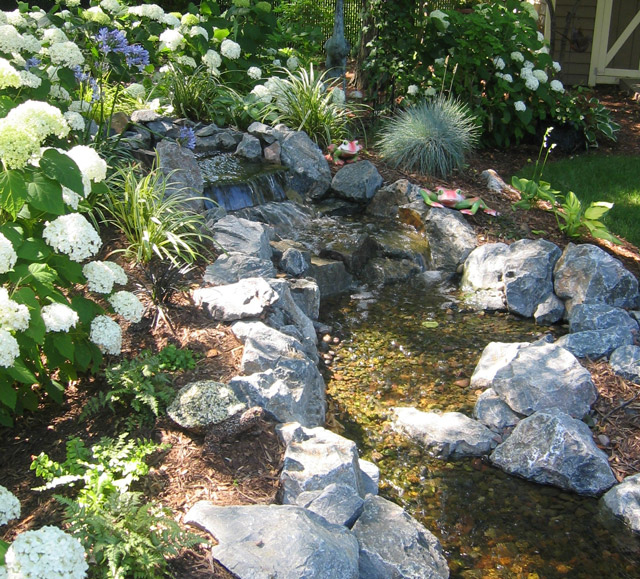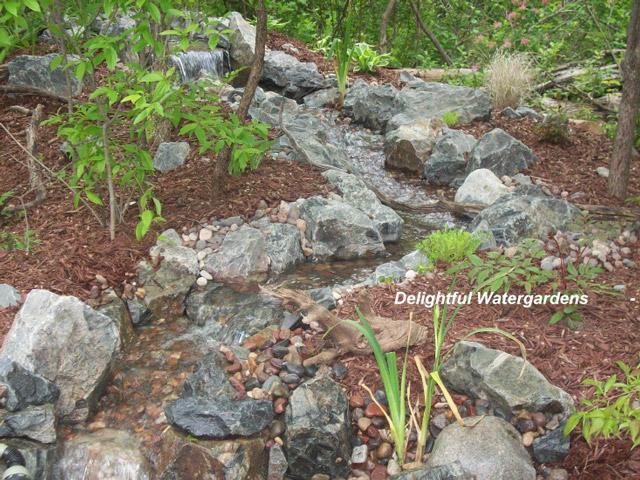 Maybe you don't have two weekends to create a waterfall, but still love the serenity one creates? Why not try a small water fountain in your backyard like this from Willard & May: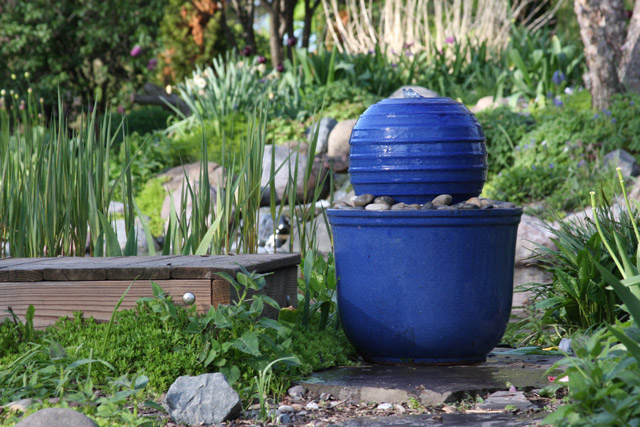 Happy Weekend!