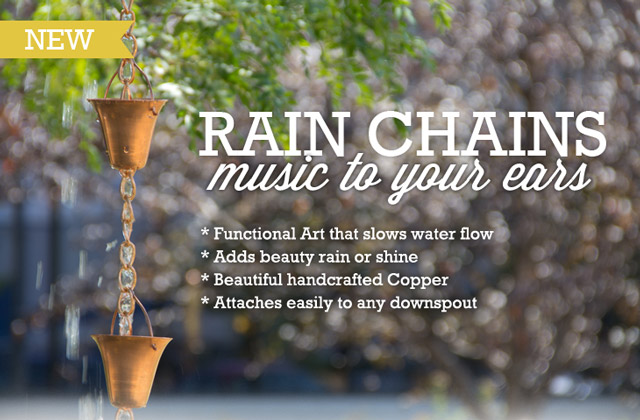 Rain chains are a unique yet still functional way to add style to your gutters and yard.  The Japanese have been using rain chains for hundreds of years, which makes them a critical part of any Japanese garden. The original rain chains were simply links of chains that would hang from the roof to the ground. Even these primitive versions provided a calming and pleasant sound, however were not nearly as decorative as the new and improved ones we enjoy today. Originally, rain chains were used primarily for functional purposes, such as catching the water as it ran off a roof and collecting into a large barrel for use later for various household purposes.
The design of rain chains has come a long way since they were first introduced. Present-day rain chains feature a series of cups that work to funnel the water, creating less splash while still guiding the water down the chain to the basin. Rain chains can actually be used in place of a traditional downspout to incorporate great style and uniqueness into the landscape. Most rain chain cups and links are constructed from copper, adding a classy and distinct look whether the copper is new and shiny or weathered showing a bit of patina. Another feature that we love about rain chains is that the cup styles vary, so you can match them to the look of your house, garden and personality.  While style is always important in terms of accessories for your house, your home should also primarily be a place of enjoyment and relaxation. A rain chain can add a wonderful sense of relaxation on a rainy day. The soothing sounds of raindrops slowly trickling or abruptly splashing through the chains and links can add extremely pleasant sounds and sights to your outdoor room . Enjoying these little things in life and being able to appreciate something as simple as rain flowing through a copper chain can really help to clear the mind.
Besides the many style choices, rain chains also offer many choices for where to direct the water to after it has made it down the chain.  You may choose to catch the water in a large decorative pot with no drainage holes…you could even add water plants such as Water lilies or Umbrella Palms to the pot for added color and flair! Another option would be to place a rain barrel or other type of basin at the base of the chain. Then use this water on your garden plants! They'll love being watered by the water that collects in this barrel as it contains minerals essential for healthy plant growth and your pocket book will also appreciate it since you will be using less water from the hose!  If you are thinking of installing a rain chain and would like to keep it simple, it isn't even necessary to catch the water in any kind of container. The rain can be funneled down the chain and go directly into your garden! Simply be sure to select water-loving plants that are good for your climate such as Ligularia, or Sambucus under the chain so they can benefit from the additional water.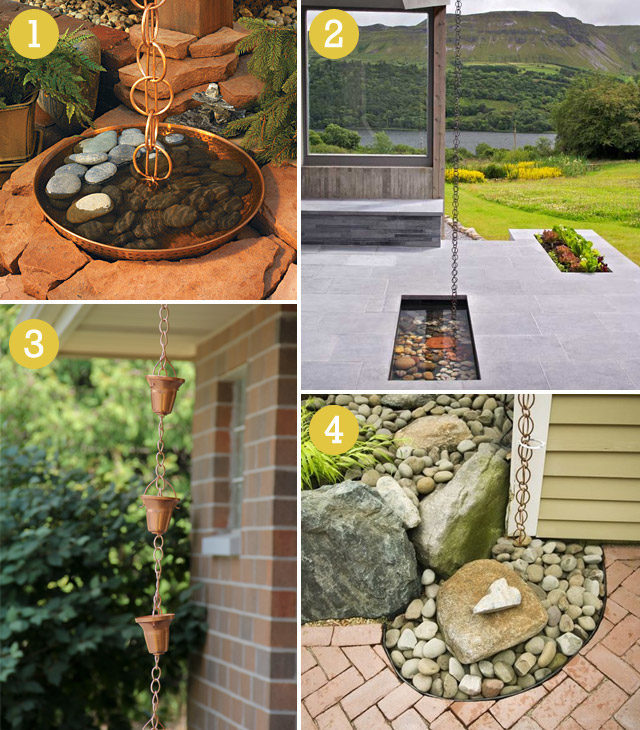 (Photo Source: 1. WorkBench 2. Trendir 3. Willard & May 4. Houzz)
Rain chains can be hung from the gutters in the front of your house, near a patio, by the garden shed or even incorporated into the garden.  The best part is that these stylish copper "downspouts" are easy to install. First, remove the existing downspout.  Second, insert the rain chain into the gutter. The rain chain will come with a large "V" on top of the chain that rests on each of the gutters at the opening of the downspout. Complete the look with your decorative pot, rain barrel, rocks or just leave it to empty into the garden! Now, just wait for that perfect rainy day to enjoy the soothing and tranquil sounds of your newly installed and beautiful copper rain chain!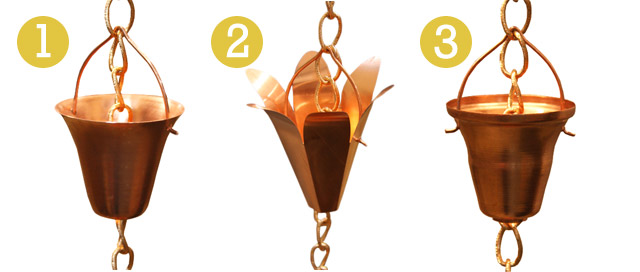 You can find 3 styles of Copper Rain Chains and some fun large pottery to get you going on your new simple water feature at WillardandMay.com (1. Cute Cup Rain Chain 2. Flower Petal Rain Chain 3. Widelip Rain Chain)