Each and every weekend is a chance to relax, kick-back and enjoy yourself – Just Kidding! When you have your own place to call home, you know very well all the projects that come along with it. Each week we'll feature one Weekend Do-It-Yourself project in the hopes to inspire you to get outside and turn your backyard into your outdoor dream.
While it may be a bit too early to begin the projects you've been dreaming up for your backyard all winter, you could try bringing life indoors! We're guessing you've seen one of the latest crazes of planting a succulent garden, as it has been featured in countless magazines and blogs.
We love succulent gardens because they are easy to grow, pretty hard to kill (bonus!) and have a whimsical feel – almost like you could find a little fairy floating around them. One of our designers thought she'd give a succulent garden a try, and we're pretty impressed – now we're all thinking of ways to incorporate them into our homes and offices!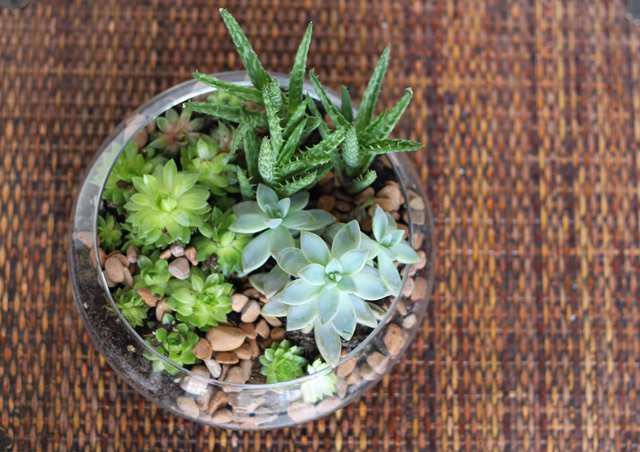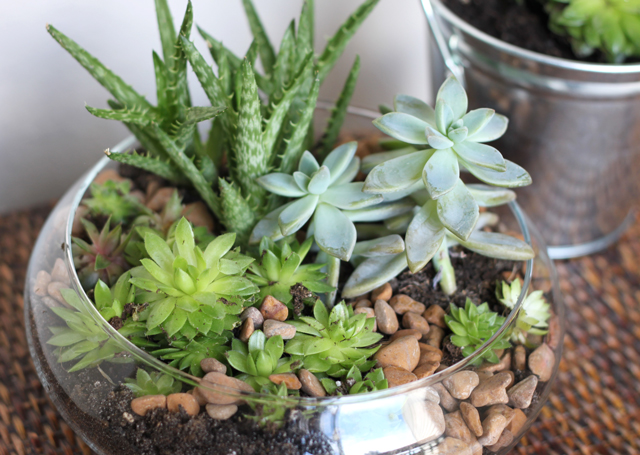 Here is what she says about building her succulent garden:
I wanted to create a mini succulent garden out of a glass bowl that I had found at a local craft store. Next, I began the hunt and research at our local garden center that had lots of greenhouse plants. There I found three different varieties of succulents. The three had different heights, textures, and shapes. I also picked up some rocks and cactus-succulent soil (as I learned it is very important they have well-drained soil).

I started with a layer of rocks at the bottom of the glass bowl to help with drainage. Then I added some soil, then grouped the two taller succulents in the back. The other succulent I picked was smaller in size, so I scattered them about in the front. Once I had them perfectly situated, I added more soil and placed a few rocks on top to complete the miniature garden.

I'm super happy and pretty excited with how it turned out! Lastly, here are a couple tips I picked up on the way: 1. Don't overwater them!  2. They love the sun, but keep them away from direct sunlight and 3. Display for all to see! ~ Happy indoor gardening!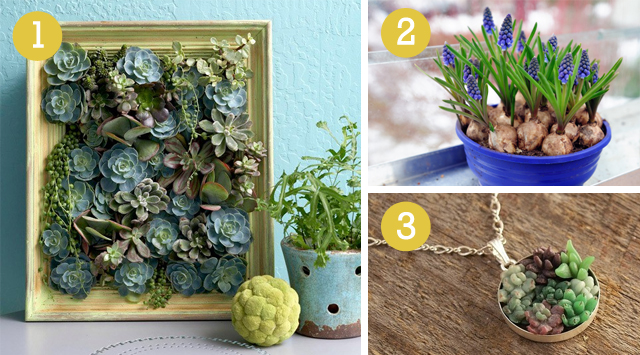 (1. Better Homes & Garden 2. BulbBlog.com 3. Woodland Belle on Etsy)
Another way to bringing gardening indoors during the winter is forcing flower bulbs, like Hyacinths, Daffodils, and Tulips. You'd have to have bought them this fall unfortunately, but instead of planting them in the ground, you try to replicate their natural growth cycle by storing them in a cool place (around 35-40 degrees) for a few months. After they've been stored, you can plant them in a pot or vase and watch them come to life indoors. As a nice bonus, many bulbs like hyacinths have a sweet smelling scent! For tips on forcing bulbs, check out our friend Bridget at the Bulb Blog.
Also, follow our Indoor Gardening Board we created on Pinterest for other great ideas for bringing life indoors this winter! When Willard & May launches, we'll have lots of great products for indoor gardening to get you started. What indoor gardening projects have you been dreaming up? Let us know in the comment section below.