The weekend is ALMOST here and we've got an easy and chic Do-It-Yourself project to tackle this weekend. If you want to add more shade to your backyard, but want to skip the umbrella route, try a colorful or patterned canopy. We love the color palette of this one featured below!
This easy and budget friendly DIY project is from the magazine All You. The main things you'll need to pick up are: 5 5-gallon buckets, 3 80-lb bags of cement mix, some PVC pipe, 4 planters of your liking, a large bag of gravel, soil, bamboo poles, 3 yards of outdoor fabric, and plants. Many of the other supplies you'll have on hand. You'll also need two days to do this project as you'll need to let the cement set overnight – so start this project on Saturday, and finish it off on Sunday!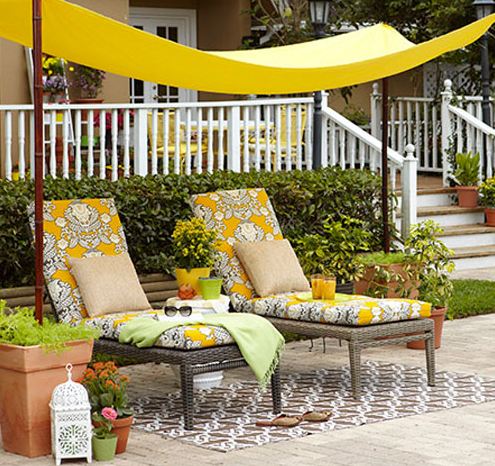 (Photo Source: All You)
For the complete Do-It-Yourself project instructions and materials, visit All You. We also found another DIY Canopy idea from Apartment Therapy if you want to check out another way to do this same project.
Happy Weekend!