The days of chalkboards are back. Some of us at Willard & May grew up with chalkboards in the classroom, while some of us are more familiar with the whiteboard. While the whiteboard is less messy, it doesn't have quite the same artistic vibe to it as a chalkboard. Even though I grew up with the whiteboard, I now have a love for chalkboards and even have a dream of painting an entire indoor wall with chalkboard paint someday.
If you aren't that adventurous or can't even imagine the mess your kids would make indoors with a stick of chalk, why not try a backyard chalkboard? It's a great activity for the kids that doesn't involve sitting in front of a tv – and they'll leave the mess outside!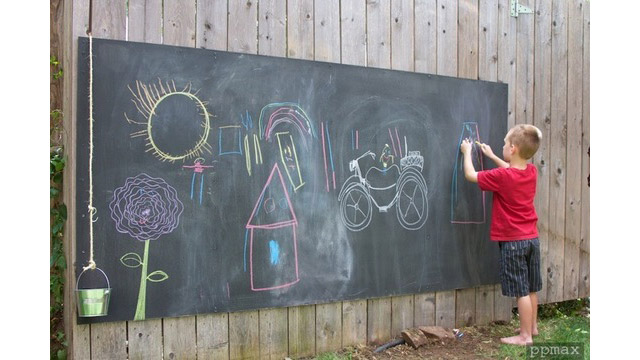 We found this Outdoor Chalkboard DIY on Apartment Therapy and thought we'd share it with you. Here are the supplies you'll need: 4×8 plywood sheet, outdoor paint (3 or 4 parts paint to 1 part unsanded grout – have the store mix it for you), nails to hang board to a fence or tree, and chalk.
The steps are easy! Find plywood, have the paint mixed at the store, paint the board, let the board dry, and hang. Your kids will be chalking-it-up in no time! Do you have a weekend DIY project to share with us? If so – let us know in the comments section below!
Happy Weekend!