Wow. What a summer! According to the NOAA (National Oceanic and Atmospheric Administration) more than 55 percent of the United States was classified as experiencing moderate to exception drought at the end of June. The NOAA also reports that the month of June was the 14th warmest and tenth driest June on record, based on data dating back to 1895. However, you don't need statistics to know that things are dry. All one needs to do is look out his or her window at the once green-grass now resembling more of desert sand than anything else. Even well-established plants are beginning to wilt and rivers that were once flowing have now diminished to a near trickle. As much as we all have a right to lament the dry weather because of the effect its had on our landscape, no one has the right to complain more than the farmers whose livelihoods depends on the growth of their crops. Check out these photos from the Photography Blog in the Dallas News.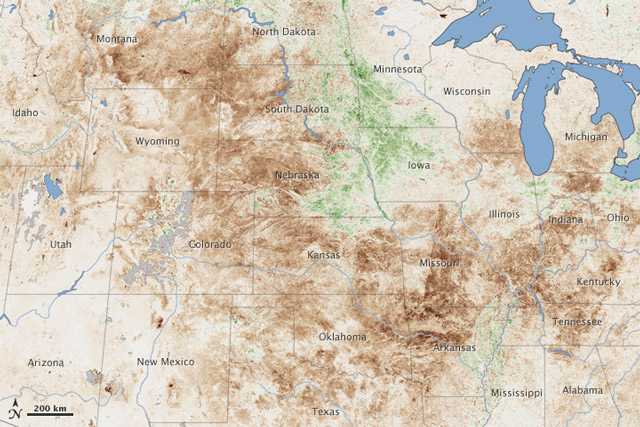 (Image Source: NASA)
So we all know it's been dry and unfortunately, no version of a rain dance is going to change that fact. But there are a few things you can do to combat the drought and give your plants the best chance at survival that you can. Here are a few watering tips to help you through the dry spell:
The best time of day to water, whether it be the lawn or other plants, is early in the morning before the heat rises. Watering in the middle of day is not only costly (much of the water evaporates before it has a chance to sink into the ground and therefore, results in having to water more) but can actually be harmful to your landscape. When water is allowed to sit on the leaves of plants or blades of grass, it actually magnifies the sunlight and in turn can have an almost "burning" effect on the foliage. If watering the morning is not possible, the next best option would be closer to dinnertime after the sunlight's intensity has decreased but the temperatures have not started to fall quite as drastically as later in the evening.
Water all plants (with the exception of lawn areas) as close to the root system as possible. Although overhead watering (such as with a sprinkler or hose nozzle) is usually the quickest way to get the job done, it isn't always the best. Allowing the water to sit on the foliage of a plant can be detrimental not only for the reasons listed above but also because it can encourage mildew to form on some plants if it does not evaporate quickly enough. Use a watering can to water the base of the plant or a watering wand which can be held at the base whenever possible. If overhead watering is necessary, be sure to adhere to the early morning watering guidelines to avoid possible issues.
Aim to give all of your established plants (including trees and shrubs) one inch of water per week. During typical weather patterns, the plants in your landscape will naturally receive this recommendation of moisture through precipitation as well as dew. Since this obviously is not the case during a drought, it may be necessary for you to provide this water for them. When watering established trees with a hose, be sure to use a slow trickle for approximately 20-30 minutes on each tree. This will allow the water to sink deep into the ground, reaching the majority of the roots. Watering with too high of a water pressure will only cause the water to run along the surface of the ground to a lower point, especially if the ground is extremely hard and dry.
Explore different possibilities and methods for saving time. There are a few quite ingenious methods which have been development for saving both time and money when keeping your landscape well-watered. One of them is that of a "water reservoir" for your container plants which was featured here on Dabbletree. Or click through this slide show from Provident Living for even more ideas!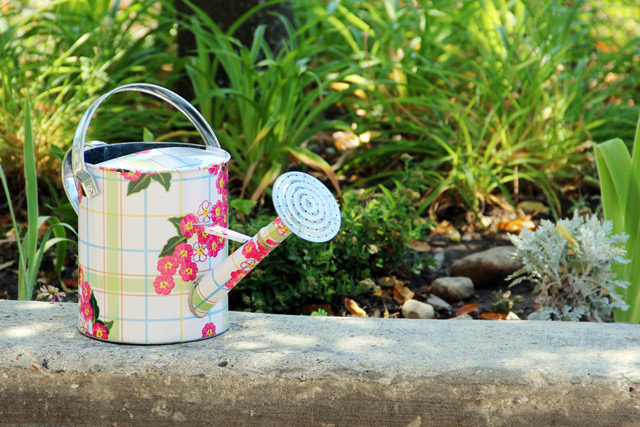 However you choose to water, be sure you check with your local municipality for any watering bans which may be in effect. If you are able to water and want to do it in style, check out some of these great watering accessories from Willard & May!
Happy Watering!