Last week we shared with you fall bulb planting basics: including the different types of bulbs, the bulb life cycle, and the important tip that you should always plant bulbs that grow best in your zone. Now that you're a bulb genius, we'll share our favorite fall bulbs that we're sure you'll love!
Bulbs can be found just about anywhere this time of year: online, garden centers, or big box stores. Now is the perfect time to pick out what you'd like to plant as it is getting very close to planting time! The sooner you select your bulbs, the more likely you'll have the biggest variety of and best quality bulbs to shop from!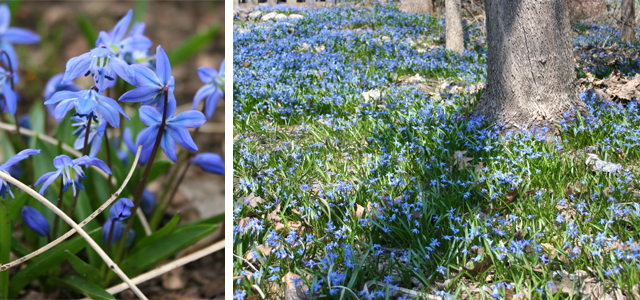 Favorite Shade Bulb: Siberian Squill / Scilla
Scilla bulbs are great for borders and work fast at naturalizing if left undisturbed, adding a lovely blue touch to woodland areas. What is great about Scilla is that they can be planted under trees where you think shade would be a problem. Due to the fact that most trees loose their leaves during winter, Scilla has less sun blockage in the spring. These bell-shaped, dainty blue blooms adorn this early spring bloomer and look best when planted in masse. Hardy in zones 3-9.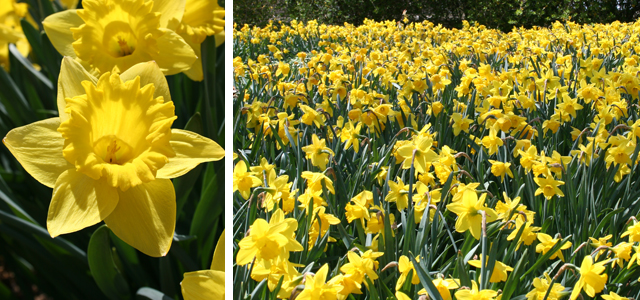 Favorite Mulitplying Bulb: Dutch Master Daffodils
Daffodil bulbs are one of the best beacons of spring, with their large and bright flowers appearing early in the season. There are a variety of daffodils such as Large Cupped, Trumpet, Pink, Butterfly, Double and Rock Garden. If you want to stick with a traditional looking daffodil, we'd suggest the Dutch Master with their golden yellow blooms. Daffodils are one of the easiest bulbs to grow as they survive in a variety of conditions, multiply each year and are deer and critter resistant. Daffodils are hardy in zones 3-8 and prefer full sun to partial shade.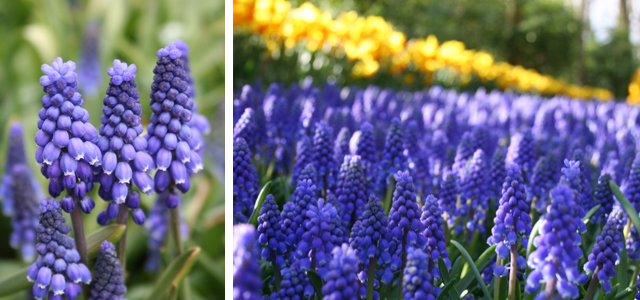 Favorite Groundcover Bulb: Blue Muscari
Muscari bulbs are little fragrant clusters that look beautiful when planted under trees, throughout the lawn or in a naturalized setting such as a wood line. These little blue bunches multiply fast and provide great groundcover. Muscari should be planted in groups of 100 or more for their largest color impact. An idea we've seen and loved is to make a river-like effect with the blue bulbs. Hardy in zones 3-8.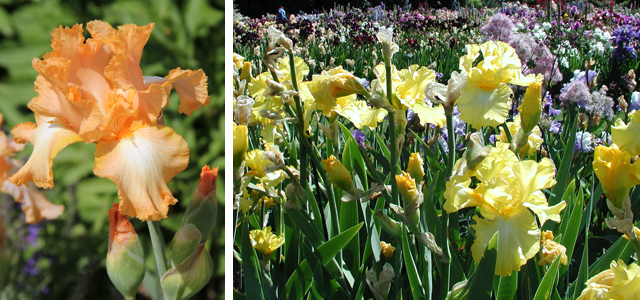 Favorite Perennial Bulb: Piping Hot Bearded Iris
Bearded Iris are an old-time favorite amongst many gardeners. Available in tall, intermediate, and dwarf sizes as well as almost every color of the rainbow, there is a place in any garden for a Bearded Iris. Bearded Iris reproduce fairly quickly and should be divided every 3-5 years to ensure a bounty of blooms. They are hardy in zones 3-9, best planted in full sun and slightly below the soil surface. Use for beds, borders and cut flowers.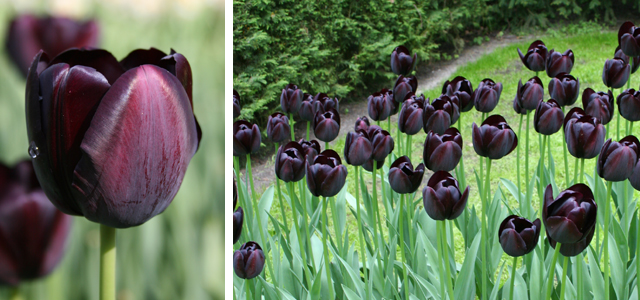 Favorite Bulb for Cut-Flowers: Queen of the Night Single Late Tulip
Tulips come in many different varieties and each boast different characteristics to make them unique. Single Late tulips are known for their tallest and strong stems (which can withstand wind and rain), making them the best for cut flowers. They also come in the widest variety of color options. The Queen of the Night is our favorite due to it's almost black blooms! All tulips prefer full to partial sun and are hardy in zones 3-7. Check out all the different varieties of tulips available here from TulipWorld.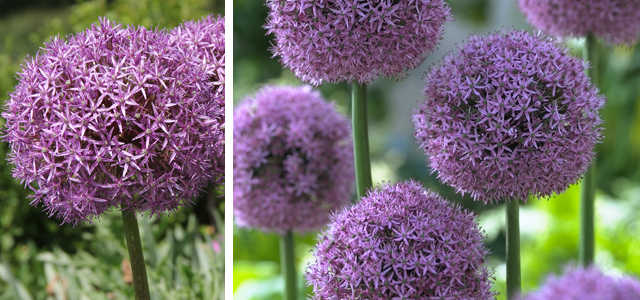 Favorite Long Lasting Bulb: Globemaster Allium
Allium bulbs are not only deer resistant and great for cut flowers, they also add a unique and noticeable texture to the spring garden. Blooms are typically spherical, densely packed florets and come in a variety of colors including purple, white, and yellow. Also – once they are dried out, move them inside for a floral arrangement or even spray paint them to give them some color. Blooms in late spring and are hardy in zones 4-8.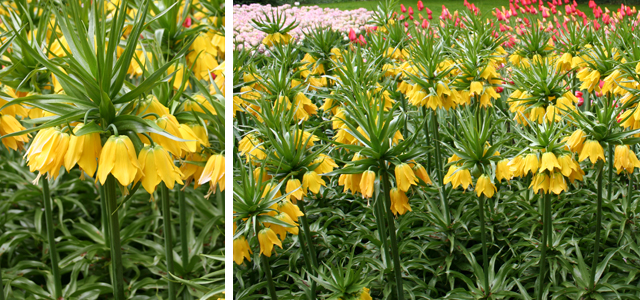 Favorite Deer Proof Bulb: Yellow Fritillaria
Fritillaria bulbs have bright and exotic-looking blooms and are hardy in zones 5-9. Be sure to amend your planting area with organic matter, such as peat moss and compost manure as well-drained soil is a must for Fritillaria. Always plant Fritillaria slightly on their sides, as the center of the bulb is hollow and may collect water if planted upright. Blooms inmid-spring, prefers full sun to partial sun, and is extremely deer and critter resistant!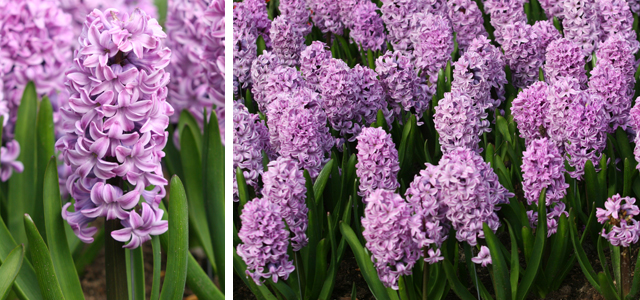 Favorite Fragrant Bulb: Splendid Cornelia Hyacinth
Hyacinth bulbs are some of the most fragrant flowers in spring and can be used for outdoor blooms. They are also one of the easiest bulbs for indoor forcing. Hyacinths also come in almost every color of the rainbow, so there is bound to be at least one variety that will go with your garden color scheme. Hyacinths perform best when planted 4-6 inches deep, in full sun with well-drained soil that has been amended with organic matter.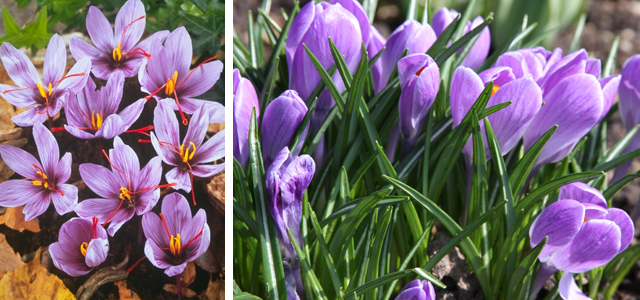 Favorite Unique Bulb: Saffron Crocus
Crocus bulbs, one of the first signs of spring, can begin to grow even while there is still snow on the ground! Their petite stature makes them perfect for use in rock gardens, to fill between plants, or in garden borders. Plant them in groupings of odd numbers for a natural look. While most crocus bloom in the spring, the Saffron Crocus uniquely shows its foliage in springtime, but the crocus flowers don't appear until the fall. Why is this unique? There isn't a huge selection of fall blooming bulbs out there – this Saffron Crocus provides a pop of color while everything else is dying back.
Happy Fall Planting!