One of the best things in life are summer nights – whether it be sitting by a fire roasting s'mores, playing yard games with the neighbors, or looking at the stars on a hill. If you are looking for a new activity to add to your summer nights, consider creating an outdoor movie. We've found some great instructions for building the screen and also some recommendations on how you'd project the movie and add sound.
Why not create this DIY outdoor movie this weekend, and enjoy it this summer and for many summers to come?!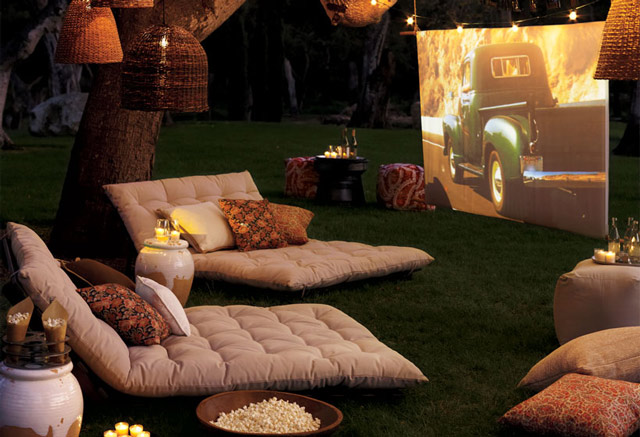 (Image Source: PotteryBarn)
We found these instructions on how to build the screen from PotteryBarn. Here is what you'll need to build the screen: (2) thick, white queen–size ironed flat sheets, a Top pole 1.5″ diameter x 10′ long, Bottom pole 3″ diameter x 10′ long, rope of two different thicknesses, (2) tent stakes, sewing machine, and an iron.
Here are their steps to assemble the screen: Step 1. Start with two queen–sized flat sheets which have been thoroughly ironed. Sew them together with white thread so the long sides are joined creating a tube. Step 2. Insert the 1.5–inch diameter pole and let the fabric hang down.  Step 3. Attach thicker rope to the ends of the top pole so that it can be attached to a tree. Step 4. Once attached to a tree, slide the thicker pole through the tube created by the sewn sheets so that it creates a weight at the bottom of the screen. Step 5. Attach thinner rope to the ends of the bottom pole.  Step 6. Insert two tent stakes directly beneath the bottom corners of the screen, tie the thinner rope to both of the tent stakes and pull taught. This will insure that the screen doesn't sway in the wind.
As for the projector and other helpful tips, here is some advice we found from the blog, giverslog:
PROJECTOR. When choosing a projector, remember this: the bigger the screen, the better the resolution you need to be able to see the image. A High Definition Projector is your best bet. Look for something that has an HDMI input and you should be in good shape. Beyond that, as you increase the price of the projector what you generally find is the brightness level of the projector increases. That will allow you to start your movies earlier in the evening, which may or may not be worth the extra money to you.

AUDIO. This is where most people skimp. But this is the part that makes the most difference. It doesn't do you much good to create a giant image and then force your guests to guess what the people are saying. That said, you don't need to spend a lot of money to make a great sound system. This is not a place where you need surround sound or high quality speakers, volume is more important than clarity. I live in a place where no one cares if I am blasting my system at 11pm while watching The Bourne Identity (or Pride and Prejudice) but even if you have neighbors that don't appreciate the volume, you still need something that can project the sound to your guests. Without walls to reflect the sound you typically need more than you would indoors.

I would suggest that you get a stereo receiver or old sound system that is around. People want surround sound in their homes so this is something you can pick up cheap on craigslist. You then want to find some speakers. Again, these do not need to be high quality speakers that you would use in your home theater in your home. I looked on craigslist for DJ speakers and went with some of the cheapest I could find.

BLURAY. If you can show your movies in bluray, do it. As your screen gets bigger the image quality is stretched. DVD's produce about 500 lines of resolution, bluray gives you 1080 lines of resolution. That is twice as much picture that you are going to stretch. If you can't get your copy of Anne of Green Gables on Bluray (they don't make it, I have looked for AmberLee's sake), at least pull out your bluray player to project the DVD. Most Bluray players try to convert the image and double the lines that are produced. You will still see a difference between that and Bluray, but it will be much better than just playing the disc on a laptop or old DVD player.
Don't forget to add plush seating, bring out blankets and create a yummy popcorn snack to enjoy while you watch your movie! What a great way to end a summer day :)
Happy Weekend!