Light. It's a beautiful thing, yet it is fading fast now that fall is approaching! Did I really just say that? How sad. Each night the sun sets a tiny bit earlier than the previous day, meaning dark dinners if you planning on dining outdoors. Put don't head inside just yet! You can add light and a romantic mood in the dark with light either from a fire or candles.
Ever wanted to make your own candles? Well you've now got your chance with these simple directions from the Everything Etsy blog. This easy project can be completed in a day, and you'll need just a few supplies from a craft store. Head on over to her blog to read the entire how-to steps.
There are endless ways to make candles – just take a quick look around your house for some jars or containers! You could also try filling your candles with the citronella scent which works wonders for keeping those pests away while you enjoy your evening outside.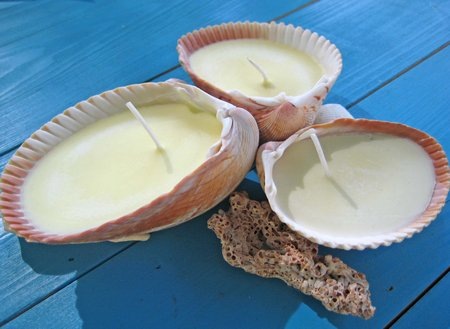 Also, while we are speaking about lighting – Willard & May has great lighting accessories such as lanterns and gazing balls with holes cut out. Go on and check them out – they don't bite, we promise!