As you know the New Year is here! (As if you didn't know, right?) As always, the new year is a time to reflect on the past year as well as make new goals. You may think back and realize you didn't accomplish all you wanted to in your backyards or maybe you wish you would have had more opportunities to visit your favorite national park. Whatever it may be, this year why not trying to set a goal (and a deadline if that helps) and actually stick to it?!
In the spirit of new year's resolutions, our team put together a few resolutions for 2013, relating to the outdoors. See what they have to say….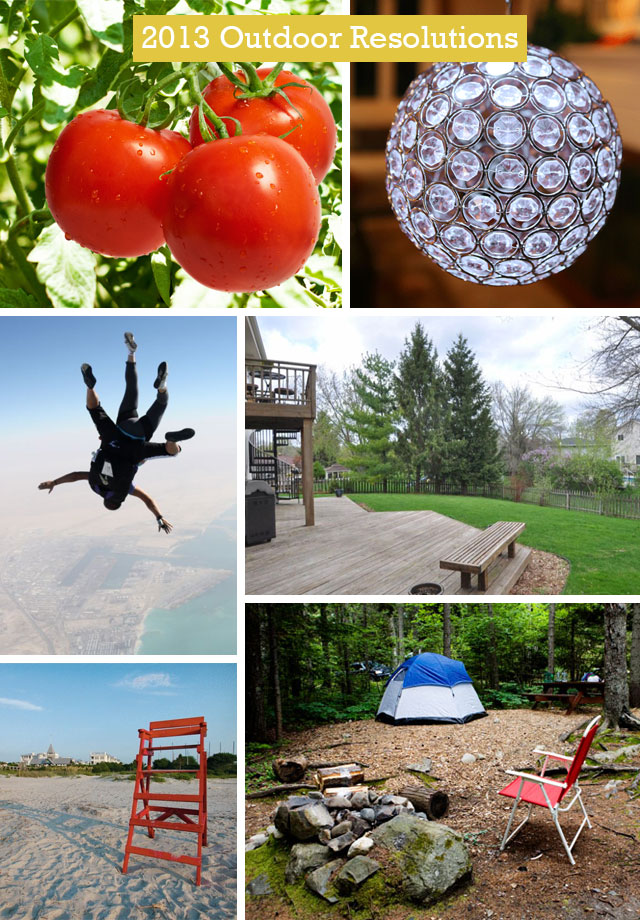 Jenny – I want to plant a vegetable garden in my small city lot using only heirloom vegetables and non-GMO seeds. To maximize the amount of space I can grow veggies in, I intend to plant in containers, as well as use the vertical growing area provided by my fence for climbing veggies like beans and cucumbers.
Mel – I really would like to add some personality to the back entrance of our house, which typically gets used more than the front. I'm hoping to incorporate some "no-installation-needed" LED lighting items and maybe add a few whimsical accents here and there to get me started!
Nick – This year, I'm facing my fear of heights and going skydiving — I figure I might as well go all out. I'd also like to camp more throughout the summer – maybe I'll even take a Chimenea.

Vanessa – Our deck could use some freshening up – I hope to pressure wash it to renew the wood, as well as add containers of colorful blooms that I can enjoy throughout the year. I'd also like to start my day more often out on my patio, drinking coffee.

Jonathan – My resolution is to get to the park/beach more, play some basketball, maybe some sand volleyball, and definitely enjoy the radiant sun. Pass the sunscreen, please.
Hopefully, we've inspired you to make a list of goals for 2013…or, if not a list, make at least one resolution! And if you feel like sharing your own, please do in the comments below!
Happy New Year!