Today marks the official first day of spring – and lucky for us, the weather reflects that today with a wonderful high of 70 degrees F. The coming of spring can also mean many things, such as spring cleaning, new life as plants begin to grow again, finding new ways to do things, or a new fresh look.
How about this spring, you find a new way to relax. You can sit back in a hammock, enjoying the chirping of the birds and the humming of the bees and lawn mowers – and think about how you won't have to drive in or shovel snow until next winter. We think this photo describes exactly what spring should be all about, when it comes to relaxing…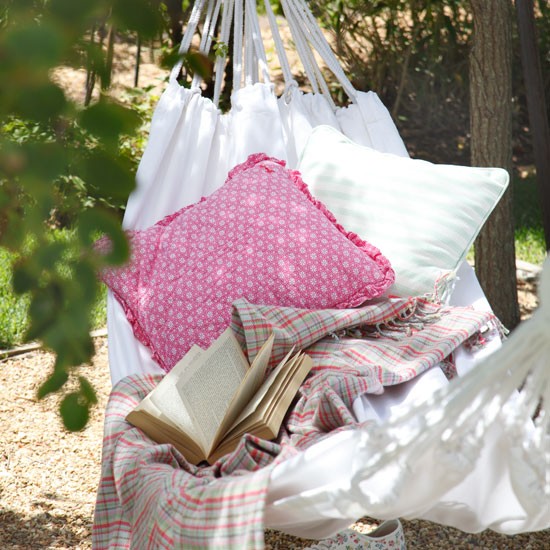 (Source: House to Home)
Once you are finished relaxing, let's talk about spring cleaning… Spring is also a great time to clean those pesky things that we normally skip over during weekly cleanings. We have compiled this spring cleaning checklist that pertains to your outdoor spaces for you to use over the next few weeks to get your outdoor space in tip top shape! You can download a free copy of our checklist to print out here.

OUTDOOR SPRING CLEANING CHECKLIST
Garden Space
Clean up any trash, weeds or dead foliage
Clean and/or replace garden tools
Patio
Power-wash your patio or deck, and clean to remove grime, pollen, fungus and/or mildew
Other Backyard Areas
Check and replace pool filters
Wash windows
Hang up screens on windows and patch any holes
Re-seed spotty grass areas
maintenance
Check your hoses for cracks and leaks
Clean out the gutters
Clean and organize garages and sheds
Check your driveway and sidewalks for any needed repair
Are there any you think we missed on our checklist, if so let us know in the comment section below! Happy First Day of Spring and happy cleaning!